What is Snoman?
Snoman (Snowmobilers of Manitoba) Inc. is a non-profit organization representing 53 member snowmobiling clubs that maintain and groom over 13,000 kilometres of Manitoba's scenic trails. Member clubs are financially supported through the sale of Snopasses.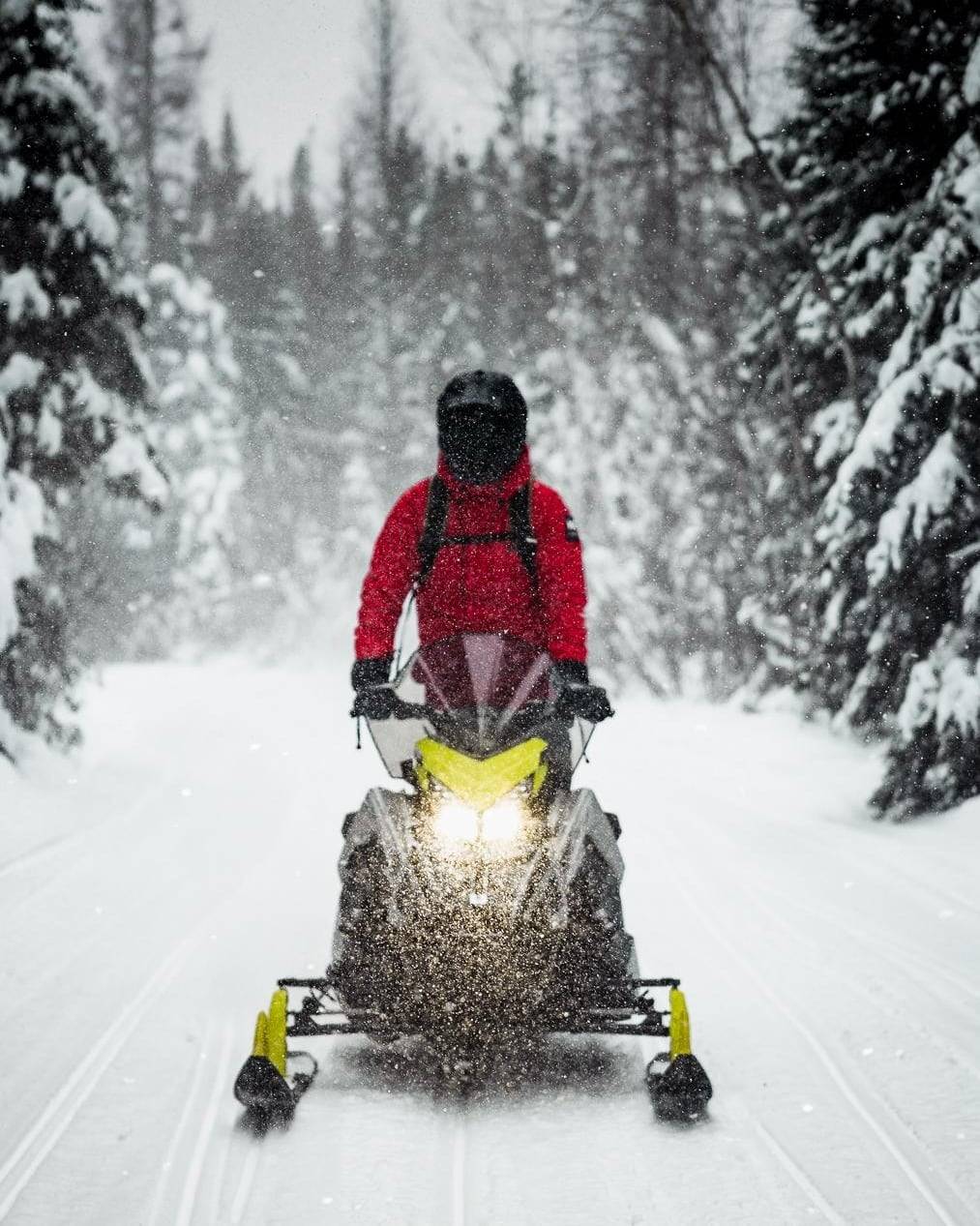 Our Mission
Snoman (Snowmobilers of Manitoba) Incorporated is dedicated to providing strong leadership and support to its member clubs to develop and maintain safe and environmentally responsible snowmobile trails to further the enjoyment of organized recreational snowmobiling throughout Manitoba.
Our Vision
Snoman is dedicated to being an organization with a strong volunteer base, the safest trail system in North America, and sustainable funding.
Values
Communication
We strive for open and effective communications within our organization and the public and readily share information to keep everyone informed.
Teamwork
We promote cooperation and support among staff, board members, and partners to enhance our combined knowledge and achieve common goals.
Accountability
Through sound judgment, ethical behaviour, and fiscally responsible administration of resources, we are accountable to our members for decisions made, policies implemented, and actions are taken.
Transparency
We are transparent in the way we communicate with others, providing timely, relevant, and accurate information, and we encourage and promote participation in decision-making by all members of our organization.
Collaboration, Partnership, and Cooperation
We recognize and appreciate volunteers and partners that assist with the operation of our clubs, and we seek opportunities to form alliances with others to maximize our resources.
Change and Innovation
We are open to change and look for creative new ways to fulfill our vision, mission, and goals.
Greetings Passionate Manitoba Snowmobilers!!
My name is Jason Wiebe, and I am your newly elected Snoman President. It is my honor to serve in this capacity for the benefit of organized recreational snowmobiling in Manitoba. I would like to thank those that came before me for leading an organization that I am proud to take the reigns of. I would like to thank Past President Wayne Vandersteen for his time on the executive, especially the challenges he overcame during the pandemic. Congratulations to Darcy Wyborn, newly elected Vice President, and Alan Butler as incumbent Treasurer, and to all the regional reps and board of directors volunteering their time for the upcoming season.
As an organization, we were thrilled with the turnout to our first in-person AGM and Congress since 2019. It was incredible to see old faces, meet some new riders, and get a chance to network again. I think we can all agree, the Victoria Inn in Brandon did a tremendous job, and we thank the West Region Snowmobile Association for spearheading this initiative and volunteering so many hours to make the event a success. If you attended the event, you know exactly what I mean, and if you didn't, you missed out on the greatest pre-season gathering of snowmobile enthusiasts in the province.
Coming off a tremendous season with record grooming last season and a promising forecast for the coming season, we know all 53 clubs are hard at work to make your experience on the snow safe and memorable. Every club is currently in full "GO" mode trying to do the last-minute preparations to their equipment, trails, and signage. Regardless of your skill level or experience, every club is seeking additional volunteers to lighten the load so have you considered what you can do to ensure your club stays viable? It's a great opportunity to meet like-minded people, and I guarantee you every volunteer is welcomed with open arms.
The greatest challenge currently facing our organization is inflation. As I'm sure each of you is feeling in your personal lives, inflation is also negatively impacting our clubs and organization. The rising cost of fuel and equipment has eroded clubs buying power and makes it difficult to save for the future. I can assure you the board of directors is aware of this and is working on initiatives to tackle these issues.  Through good fiscal management, the Snopass has stayed the same price since 2015 (one of the lowest in Canada), and we believe the time has come to review that pricing and find a balance between organizational sustainability and value to Snopass holders. We are also working collaboratively with all levels of government on several initiatives, that we hope to report on shortly.
I want to wish you all a safe and enjoyable riding season with friends and family.
Ride Safe, Ride Often, Ride Right!!!
Jason Wiebe
President, Snoman Inc.
History
Snoman (Snowmobilers of Manitoba) Inc. was incorporated and registered under the 'Companies Act' on November 13, 1975. Snoman Inc. was established to:
Advance organized snowmobiling in Manitoba;
Coordinate matters of mutual interest for organizations that relate to snowmobiling;
Develop snowmobile trails and associated facilities;
Promote snowmobile safety;
Consult with representatives from the public sector, private sector, and other provincial snowmobile associations across Canada;
Assist with protecting the environment; and
Perform desirable and lawful functions in the general public interest.
In 1994, Snoman Inc. and the Province of Manitoba entered into an agreement that enacted the Snopass, under the Crown Lands Act, Provincial Snowmobile Trail Regulation. The Snopass provides clubs with revenue to maintain designated snowmobile trails. Designated snowmobile trails provide:
The safest alternative for riders to enjoy snowmobiling;
Trails that help reduce trespassing on private property;
Winter travel links to communities throughout rural and northern Manitoba;
Dollars to businesses reliant on winter tourism;
Tax revenue for both the federal and provincial governments;
Increased revenue to snowmobiling related industries; and
Economic benefit of more than three hundred million dollars annually to the Manitoba economy.
The Snopass system was created to provide a user-pay system. It ensured that riders who use the trail system were helping to fund its ongoing operating costs by paying into it. It provided Snoman Inc., its Regional Snowmobile Associations, and its member clubs a more stabilized funding base to help finance the operations and administration associated with snowmobile trail maintenance.